Intro
Tonight, October 12, 2009, the Brisingr Deluxe Edition releases at midnight.
News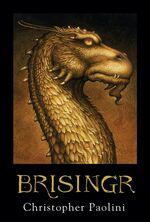 Well, we've all been waiting for it: the Brisingr Deluxe Edition. It contains Galbatorix art by Paolini himself, a guide to dwarven runes by Paolini, art by John Jude Palancar, and much much more! Pick up your copy today! - or... wait... tomorrow!
May your swords stay sharp, Inheriwiki!
Comments
Please keep your comments civil, short, to the point, and good. Thank you!
Ad blocker interference detected!
Wikia is a free-to-use site that makes money from advertising. We have a modified experience for viewers using ad blockers

Wikia is not accessible if you've made further modifications. Remove the custom ad blocker rule(s) and the page will load as expected.