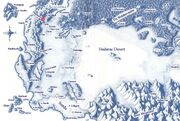 "It's ugly, if nothing else."
Therinsford was a town southwest of Carvahall. Its buildings were scattered about, in no particular order. It was located in Palancar Valley.
Roran received a job in Therinsford as a miller's assistant, but it was cut short by the death of his father, Garrow. Later, Brom and Eragon traveled through Therinsford on their quest for vengeance. They bought Snowfire and Cadoc in the village.