Ad blocker interference detected!
Wikia is a free-to-use site that makes money from advertising. We have a modified experience for viewers using ad blockers

Wikia is not accessible if you've made further modifications. Remove the custom ad blocker rule(s) and the page will load as expected.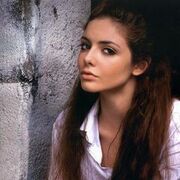 Tamsin Egerton is the actress cast in the role of Katrina in the Eragon movie, though all her scenes were cut in the final edit. She was born on November 26, 1988 in Hampshire, England. She also works as a model. Indenpendentcritics.com named her 13th of the 100 most beautiful faces in the world in 2008.[1]
Queen & Country (2014) .... Ophelia
Singularity (2013) .... Laura Fennel
Justin and the Knights of Valour (2013) .... Lara (voice)
The Look of Love (2013) .... Fiona Richmond
Chalet Girl (2011) .... Georgie
The Story of F*** (2010) .... Daisy
Huge (2010) .... Clarisse
4.3.2.1 (2010) .... Cassandra
St. Trinian's 2: The Legend of Fritton's Gold (2009) .... Chelsea
Knife Edge (2008) .... Flora
St. Trinian's (2007) .... Chelsea
Driving Lessons (2006) .... Sarah
Keeping Mum (2005) .... Holly Goodfellow
Television
Edit
Camelot (2011).... Guinevere
Money (2010) .... Butch Beausoleil
Trial and Retribution (2008) .... Imogen Buller-Turi
Octavia (2008) .... Octavia Fun
The Abbey (2007) .... Tiffany
Earthquake (2007) .... Zoe
Silent Witness

Supernova: Part 2 (2006) .... Hannah Duncan
Supernova: Part 1 (2006) .... Hannah Duncan

Mayo

Episode #1.3 (2006) .... Patti Feathers

Sherlock Holmes and the Case of the Silk Stocking (2004) .... Miranda Helhoughton
Napoléon (2002) .... Betzy
Sir Gadabout: The Worst Knight in the Land (2002) .... Princess Elenora
The Mists of Avalon (2001) .... Young Morgaine
Hans Christian Andersen: My Life as a Fairytale (2001) .... Kate Dickens
External links
Edit
References
Edit