The Spine was a mountain range that ran down the west coast of Alagaësia. It had only one major pass, along the Toark River, which isolated the coast. Most people in the Broddring Empire feared the Spine and the danger it represented, especially since Galbatorix lost nearly half his army in it against the Urgals, during his campaign against the Dragon Riders. After this incident, hardly anyone dared to venture near to this dangerous mountain range.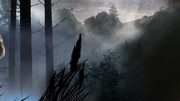 A few separate, but important, events occurred within the Spine:
Occupants
Edit
Urgals, along with other monsters, made their homes in the mountains of the Spine.
Few men ventured into the mountains and were able to come back. Eragon was one of these few.
See also
Edit
Inheriwiki's forum has related pages on this topic:
Ad blocker interference detected!
Wikia is a free-to-use site that makes money from advertising. We have a modified experience for viewers using ad blockers

Wikia is not accessible if you've made further modifications. Remove the custom ad blocker rule(s) and the page will load as expected.