The puzzle ring was a series of golden bands that could be manipulated into one ring. A puzzle ring created by the dwarves was given by Orik to Eragon on their journey to Ellesméra. The elf Nari solved the puzzle ring in moments, though Eragon was unable to solve it until after the Blood-Oath Celebration, once he had been changed into an elf-human hybrid. Although Nari solved the puzzle quickly, he recognized its cleverness. 
The puzzle ring is based on one that a librarian gave to Christopher Paolini during a book tour for the self published edition of Eragon.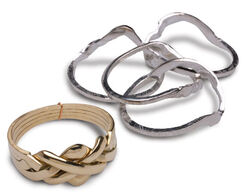 Ad blocker interference detected!
Wikia is a free-to-use site that makes money from advertising. We have a modified experience for viewers using ad blockers

Wikia is not accessible if you've made further modifications. Remove the custom ad blocker rule(s) and the page will load as expected.