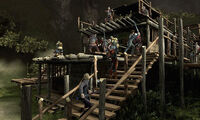 The Battle under Farthen Dûr, also called the Battle of Tronjheim, was fought between the Varden and their dwarven allies against Urgals in the service of the Empire. The battle marked the beginning of the Rider War.
Urgals under the command of the Shade Durza had been marshaling in secret in Ithrö Zhâda, a hidden fortress within the Beor Mountains, for months prior to the assault. The Varden were able to anticipate and prepare for the attack, however, thanks to a message intercepted by Varden spies. The Varden had their women and children evacuated to the surrounding valleys with guides to take them to Surda in case the Varden were defeated. However, some of the women such as Arya and Nasuada stayed behind and fought in the battle anyway. Ajihad also sent messengers to Surda and the elves so that if the Varden were defeated they would not be caught by surprise. (more...)
---
---
Featured Quote:

Loading RSS data...
10/23/2016 Community News
---
Current improvement drive:
Please improve the article--> these pages in any way you can.
---
Suggest an article to be improved
---
---
---
Simply place the following code into your website to link back to us! We would greatly appreciate your support!
Code

<a href="http://inheritance.wikia.com/wiki/Main_Page" target="_blank"><img src="http://images.wikia.com/inheritance/images/c/ca/Button.jpg" title="Inheriwiki, the Inheritance cycle wiki" border="0"></a>

will produce