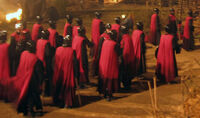 The Battle of The Burning Plains was a conflict that took place between the Imperial forces of Galbatorix and the combined armies of the Varden and Surda on The Burning Plains (Du Völlar Eldrvarya in the Ancient Language). The plains were located to the west of the Jiet River in southern Alagaësia.
Just prior to the battle, a tribe of Kull marched to the Varden camp under a flag of truce. They requested permission to serve under the Varden commanders and to fight against the Empire. Despite the misgivings of Eragon and Orik, a treaty was made between the two entities, and the Kull agreed to act as Eragon's bodyguards. (more...)
---
---
Featured Quote:
"Defend yourself!"
— Brom

Loading RSS data...
09/27/2016 Community News
---
Current improvement drive:
Please improve the article--> these pages in any way you can.
---
Suggest an article to be improved
---
---
---
Simply place the following code into your website to link back to us! We would greatly appreciate your support!
Code

<a href="http://inheritance.wikia.com/wiki/Main_Page" target="_blank"><img src="http://images.wikia.com/inheritance/images/c/ca/Button.jpg" title="Inheriwiki, the Inheritance cycle wiki" border="0"></a>

will produce