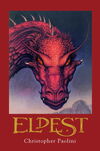 Eldest is the second book in the Inheritance cycle. It was released on August 23, 2005, and, like Eragon, became a New York Times bestseller.
At the beginning of the novel, Eragon has decided to go to Ellesméra to continue his training as a Dragon Rider. Meanwhile, in Carvahall, Roran is being pursued by Galbatorix, who has sent the Ra'zac to capture him and thus lure Eragon out. Roran and the villagers manage to keep the army at bay, and Roran leads them on an exodus to Surda.
Eragon leaves his training with an ancient Rider named Oromis to go to the aid of the Varden and their new leader, Nasuada, as they prepare for battle against the forces of Galbatorix; but the sudden appearance of an enemy Dragon Rider turns the tables in the Empire's favor. (more...)
---
---
Featured Quote:

Loading RSS data...
07/27/2016 Community News
---
Current improvement drive:
Please improve the article--> these pages in any way you can.
---
Suggest an article to be improved
---
---
---
Simply place the following code into your website to link back to us! We would greatly appreciate your support!
Code

<a href="http://inheritance.wikia.com/wiki/Main_Page" target="_blank"><img src="http://images.wikia.com/inheritance/images/c/ca/Button.jpg" title="Inheriwiki, the Inheritance cycle wiki" border="0"></a>

will produce