Home
Talk

37
1,326pages on
this wiki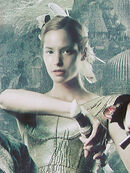 Arya (formally titled Arya Svit-kona and also known as Arya Dröttningu) was a female elf, the daughter of Queen Islanzadí Dröttning and her husband Evandar, and therefore a princess. Stunningly beautiful, with raven-black hair and green eyes, Arya was also an accomplished swordswoman and magic user. Eragon expressed his deep feelings for her on many occasions, but because of the broad age gap between them, Arya chose to reject his advances.
Arya passionately supported the cause of the Varden, and with the consent of the elves was chosen as the courier of the one dragon egg in rebel possession. When Galbatorix sent Durza to ambush her on her mission, she managed to teleport the precious egg towards Carvahall, where it was found by Eragon.
Arya fought with the forces of the Varden at the Battle under Farthen Dûr and the Battle of The Burning Plains. (more...)
---
---
Featured Quote:
"A hatchling, that is what you are. A hatchling struggling into the world. I may be younger than you in years, but I am ancient in my thoughts. Do not worry about these things. Find peace in where and what you are. People often know what must be done. All you need to do is show them the way — that is wisdom. As for feats, no army could have given the blessing you did."

Loading RSS data...
10/31/2014 Community News
---
Current improvement drive:
Please improve the article--> these pages in any way you can.
---
Suggest an article to be improved
---
---
---
Simply place the following code into your website to link back to us! We would greatly appreciate your support!
Code

<a href="http://inheritance.wikia.com/wiki/Main_Page" target="_blank"><img src="http://images.wikia.com/inheritance/images/c/ca/Button.jpg" title="Inheriwiki, the Inheritance cycle wiki" border="0"></a>

will produce