Ad blocker interference detected!
Wikia is a free-to-use site that makes money from advertising. We have a modified experience for viewers using ad blockers

Wikia is not accessible if you've made further modifications. Remove the custom ad blocker rule(s) and the page will load as expected.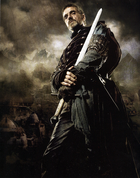 Brom was a male human and a former Dragon Rider. After the Riders were destroyed at the end of the Dragon War, Brom devoted his life to opposing Galbatorix and The Empire, and organized a resistance force called the Varden. He later became Eragon's first mentor in the arts of magic and swordsmanship. He sacrificed himself to save Eragon from the Ra'zac.
Brom came from a family of illuminators in Kuasta, a remote city near the Sea, far south of Carvahall. His mother was named Nelda and his father Holcomb. Kuasta was so isolated by the Spine that it became a peculiar place, full of strange customs and superstitions. When he was new to Ilirea (Urû'baen), for instance, Brom would knock on a door frame three times before entering or exiting a room. The other students laughed at these habits, so Brom quickly abandoned them. (more...)
---
---
Featured Quote:
While two may share two,
And one of two is certainly one,
One might be two.

Loading RSS data...
12/4/2016 Community News
---
Current improvement drive:
Please improve the article--> these pages in any way you can.
---
Suggest an article to be improved
---
---
---
Simply place the following code into your website to link back to us! We would greatly appreciate your support!
Code

<a href="http://inheritance.wikia.com/wiki/Main_Page" target="_blank"><img src="http://images.wikia.com/inheritance/images/c/ca/Button.jpg" title="Inheriwiki, the Inheritance cycle wiki" border="0"></a>

will produce