Home
Talk

37
1,326pages on
this wiki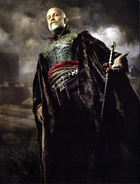 Galbatorix was the king of Alagaësia. A one-time Dragon Rider, he eventually turned against the order and brought about their downfall, believing they had caused the death of his dragon. He then established the Empire.
At the age of ten, Galbatorix was tested by the Riders and, because of his great skill, was accepted as one of their own. He was both proud and foolhardy, but his talent as a Rider was unsurpassed.
Along with several of his companions and their dragons, he entered the Spine on a dare. When their party was ambushed by Urgals, all were slain, except for Galbatorix. A stray arrow pierced the heart of his dragon, and she died. Driven mad by the loss of his dragon, he wandered in the wild for weeks, becoming so frightful in appearance that even the Urgals avoided him.
Eventually, he found his way back to Vroengard, the Riders' capital. Coming before the Council, he demanded another dragon. The Council realized that his mind was weakened, and consequently refused to meet his demand. This planted a seed of hatred in Galbatorix, and he began to believe it was the Riders' fault that his dragon had been slain. Having effectively convinced himself of this, he began plotting his revenge. (more...)
---
---
Featured Quote:
"A hatchling, that is what you are. A hatchling struggling into the world. I may be younger than you in years, but I am ancient in my thoughts. Do not worry about these things. Find peace in where and what you are. People often know what must be done. All you need to do is show them the way — that is wisdom. As for feats, no army could have given the blessing you did."

Loading RSS data...
10/1/2014 Community News
---
Current improvement drive:
Please improve the article--> these pages in any way you can.
---
Suggest an article to be improved
---
---
---
Simply place the following code into your website to link back to us! We would greatly appreciate your support!
Code

<a href="http://inheritance.wikia.com/wiki/Main_Page" target="_blank"><img src="http://images.wikia.com/inheritance/images/c/ca/Button.jpg" title="Inheriwiki, the Inheritance cycle wiki" border="0"></a>

will produce