Ad blocker interference detected!
Wikia is a free-to-use site that makes money from advertising. We have a modified experience for viewers using ad blockers

Wikia is not accessible if you've made further modifications. Remove the custom ad blocker rule(s) and the page will load as expected.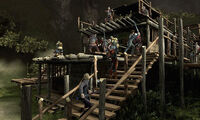 The Rider War was the name given to the war in which Eragon fought. The war, fought between The Empire, the established government of Alagaësia, and a rebel organization called the Varden, lasted for two years. By the end of that time, both sides had suffered heavy losses.
After Eragon, a Dragon Rider, entered the conflict on the side of the Varden, the war took a dramatic turn. Both sides attempted to control the remnants of the dragon race, which had been all but exterminated during the Dragon War. Galbatorix, ruler of The Empire, sought to revive the Dragon Riders and conscribe them into his own service, and the war became a personal affair for Eragon after his friend, Murtagh, became a Rider on the side of the Empire. (more...)
---
---
Featured Quote:
"You are far stronger than you realize, far wiser than you think. What was once your life is now your legend."
— Tagline for Eragon (movie)

Loading RSS data...
12/2/2016 Community News
---
Current improvement drive:
Please improve the article--> these pages in any way you can.
---
Suggest an article to be improved
---
---
---
Simply place the following code into your website to link back to us! We would greatly appreciate your support!
Code

<a href="http://inheritance.wikia.com/wiki/Main_Page" target="_blank"><img src="http://images.wikia.com/inheritance/images/c/ca/Button.jpg" title="Inheriwiki, the Inheritance cycle wiki" border="0"></a>

will produce