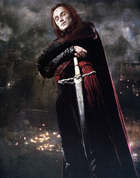 Durza (born Carsaib) was a Shade in the service of Galbatorix. He was one of Eragon's primary adversaries. He was tall, with crimson hair and maroon eyes. He was the only known Shade of Eragon's time.
Durza was sent to ambush the dragon-egg courier, Arya. He was successful in capturing the Elf, but the primary object of the endeavor, the dragon egg itself, was lost to him. It was teleported by Arya into The Spine, where it was found by Eragon.
Durza encountered Eragon in Gil'ead, when Urgals under his command captured Eragon and imprisoned him at the same prison in which Arya was being held. With the help of Murtagh and Saphira, Eragon managed to escape the prison and rescue Arya as well. Murtagh temporarily incapacitated Durza by shooting him between the eyes. It was revealed later, however, that a Shade could only be killed by a strike through the heart. (more...)
---
---
Featured Quote:
"A hatchling, that is what you are. A hatchling struggling into the world. I may be younger than you in years, but I am ancient in my thoughts. Do not worry about these things. Find peace in where and what you are. People often know what must be done. All you need to do is show them the way — that is wisdom. As for feats, no army could have given the blessing you did."

Loading RSS data...
07/28/2016 Community News
---
Current improvement drive:
Please improve the article--> these pages in any way you can.
---
Suggest an article to be improved
---
---
---
Simply place the following code into your website to link back to us! We would greatly appreciate your support!
Code

<a href="http://inheritance.wikia.com/wiki/Main_Page" target="_blank"><img src="http://images.wikia.com/inheritance/images/c/ca/Button.jpg" title="Inheriwiki, the Inheritance cycle wiki" border="0"></a>

will produce