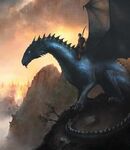 The Dragon Riders (Shur'tugal in the Ancient Language) were a coalition of elves, humans and dragons formed at the end of Du Fyrn Skulblaka. The Riders and their dragons were responsible for maintaining peace throughout the land of Alagaësia. All Riders were able to use magic, and were respected and honored by the people they served.
The era of the Dragon Riders was an era of stability in Alagaësia, as the Riders ensured a way of communication between the various races. Over time, their power grew, gaining them greater respect than was given to any king, queen, or other ruler in all of Alagaësia.
After Galbatorix's uprising against the Riders, only five dragons remained. One of them, Saphira, chose to hatch for a fifteen-year-old farm boy named Eragon. With the help of a former Rider named Brom, Eragon and Saphira set about to restore the order of the Dragon Riders to what it had once been. (more...)
---
---
Featured Quote:
"Together, we can cast spells that are beyond either of us."
— Saphira

Loading RSS data...
07/1/2016 Community News
---
Current improvement drive:
Please improve the article--> these pages in any way you can.
---
Suggest an article to be improved
---
---
---
Simply place the following code into your website to link back to us! We would greatly appreciate your support!
Code

<a href="http://inheritance.wikia.com/wiki/Main_Page" target="_blank"><img src="http://images.wikia.com/inheritance/images/c/ca/Button.jpg" title="Inheriwiki, the Inheritance cycle wiki" border="0"></a>

will produce