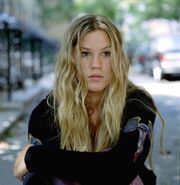 Joscelyn Eve Stoker (born April 11, 1987), better known under her stage name Joss Stone, is an English actress. Her first film role was the herbalist Angela in Eragon.
Joss is also a Brit Award-winning and Grammy Award-nominated English soul and R&B singer.
External links
Edit
Ad blocker interference detected!
Wikia is a free-to-use site that makes money from advertising. We have a modified experience for viewers using ad blockers

Wikia is not accessible if you've made further modifications. Remove the custom ad blocker rule(s) and the page will load as expected.