Ad blocker interference detected!
Wikia is a free-to-use site that makes money from advertising. We have a modified experience for viewers using ad blockers

Wikia is not accessible if you've made further modifications. Remove the custom ad blocker rule(s) and the page will load as expected.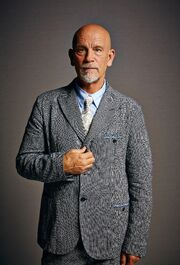 John Malkovich is an Academy Award-nominated actor. He played Galbatorix in the Eragon movie. He was born December 9, 1953 in Christopher, Illinois. He has appeared in over 70 films and motion pictures.
Filmography
Edit
| Film | Year | Role |
| --- | --- | --- |
| Transformers: Dark of the Moon | 2011 | Bruce Brazos |
| Secretariat | 2010 | Lucien Laurin |
| Red | 2010 | Marvin Boggs |
| Afterwards | 2009 | Dr. Joseph Kay |
| Disgrace | 2008 | David Lurie |
| The Great Buck Howard | 2008 | Buck Howard |
| Changeling | 2008 | Reverend Briegleb |
| Burn After Reading | 2008 | Osborne Cox |
| Gardens of the Night | 2008 | Michael |
| The Mutant Chronicles | 2008 | Constantine |
| Polis is This: Charles Olson and the Persistence of Place | 2007 | John Malkovich |
| Beowulf | 2007 | Unferth |
| In Transit | 2007 | Pavlov |
| Drunkboat | 2007 | Mort |
| The Call | 2006 | Priest |
| Eragon | 2006 | Galbatorix |
| Klimt | 2006 | Gustav Klimt |
| Art School Confidential | 2006 | Professor Sandiford |
| Colour Me Kubrick | 2005 | Alan Conway |
| The Hitchhiker's Guide to the Galaxy | 2005 | Humma Kavula |
| The Libertine | 2004 | Charles II |
| Adaptation. | 2003 | John Malkovich |
| Um Filme Falado | 2003 | Captain John Walesa |
| Johnny English | 2003 | Pascal Sauvage |
| Ripley's Game | 2002 | Tom Ripley |
| Napoleon | 2002 | Charles Talleyrand |
| The Dancer Upstairs | 2002 | Abimael Guzman |
| Knockaround Guys | 2001 | Teddy Deserve |
| Les Misérables | 2000 | Javert |
| Shadow of the Vampire | 2000 | F.W. Murnau |
| The Messenger: The Story of Joan of Arc | 1999 | Charles VII |
| Being John Malkovich | 1999 | John Horatio Malkovich |
| The Man in the Iron Mask | 1998 | Athos |
| Rounders | 1998 | Teddy KGB |
| Con Air | 1997 | Cyrus 'The Virus' Grissom |
| The Ogre | 1996 | Abel Tiffauges |
| The Portrait of a Lady | 1996 | Gilbert Osmond |
| Mary Reilly | 1996 | Dr. Henry Jekyll/Mr. Edward Hyde |
| O Convento | 1995 | Michael |
| Beyond the Clouds | 1995 | The Director |
| Heart of Darkness | 1994 | Kurtz |
| Alive | 1993 | Old Carlitos |
| In the Line of Fire | 1993 | Mitch Leary |
| Shadows and Fog | 1992 | Clown |
| Of Mice and Men | 1992 | Lennie Small |
| Jennifer Eight | 1992 | Agent St. Anne |
| Queens Logic | 1991 | Elliot |
| The Object of Beauty | 1991 | Jake |
| Old Times | 1991 | Deeley |
| The Sheltering Sky | 1990 | Port Moresby |
| Miles from Home | 1988 | Barry Maxwell |
| Dangerous Liaisons | 1988 | Vicomte Sébastien de Valmont |
| Empire of the Sun | 1987 | Basie |
| Making Mr. Right | 1987 | Dr. Jeff Peters/Ulysses |
| The Glass Menagerie | 1987 | Tom Wingfield |
| Rocket to the Moon | 1986 | Ben Stark |
| Death of a Salesman | 1985 | Biff Loman |
| Eleni | 1985 | Nick Gage |
| Places in the Heart | 1984 | Mr. Will |
| The Killing Fields | 1984 | Al Rockoff |
| True West | 1984 | Lee |
External links
Edit