Ad blocker interference detected!
Wikia is a free-to-use site that makes money from advertising. We have a modified experience for viewers using ad blockers

Wikia is not accessible if you've made further modifications. Remove the custom ad blocker rule(s) and the page will load as expected.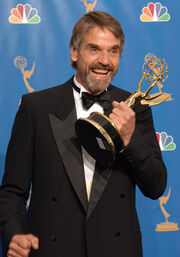 Jeremy John Irons (born September 19, 1948, in Cowes, Isle of Wight, England) is an Academy Award-winning actor. He played Brom in the Eragon movie.
Biography
Edit
At the age of 13, Jeremy enrolled in Sherborne School, Dorset, where he was very happy, as he could practice his favorite sport, horse-riding. Before becoming an actor, he had considered a veterinary surgeon's career. This very English actor began by busking, and then joined the Bristol Old Vic Theatre School. His first break came in the musical Godspell, when he played John the Baptist alongside David Essex. In the early 80s, he gained international attention with his starring role in a BBC TV serial adaptation of Brideshead Revisited, after which he was much in demand as a romantic leading man. He went on to a steady film career. Once described as "the thinking woman's pin up", he has made his name in many notable films, and gained a Golden Globe Award, in addition to an Oscar, for Best Actor in 1990 for his role as Claus von Bulow in Reversal of Fortune. Irons is married to Sinéad Cusack and has two children.
He won a Tony Award in 1984 for The Real Thing.
He is an exceptionally good horseman, and enjoys skiing. He hates cooking, but loves gardening and the beauty of nature.
He was born at 2:00am-BST
He was ticketed in England for driving 97 mph on his BMW motorcycle on June 1, 1995. Irons was charged with speeding and fined $225 and had his motorcycle license suspended for three months.
He owns Kilcoe Castle (which he had painted a rusty pink) in County Cork, Ireland, and has become involved in local politics.
He has twice played characters with the same first and last name. The first in Lolita (Humbert Humbert) and second in And Now... Ladies and Gentlemen (Valentin Valentin).
In 1996, he became the fourteenth performer to win the Triple Crown of acting. Oscar: Best Actor, Reversal of Fortune; Tony: Best Actor - Play, The Real Thing; and Emmy: Best Voice-Over - Performance, The Great War and the Shaping of the 20th Century.
He narrated the "Spaceship Earth" attraction in Epcot.
He was a member of the jury at the Cannes Film Festival in 2000
Filmography
Edit
| Film | Year | Role |
| --- | --- | --- |
| The Night of the Iguana | 2005 | |
| Eragon | 2006 | Brom |
| Elizabeth I | 2006 | |
| Fantôme de l'opéra | 2006 | Erik, the Phantom |
| Inland Empire | 2006 | Unk |
| The Magic 7 | 2005 | Thraxx |
| Mare, Il | 2006 | Louis Burnham |
| Casanova | 2005 | Pucci |
| Kingdom of Heaven | 2005 | Tiberias |
| Being Julia | 2004 | Michael Gosselyn |
| The Merchant of Venice | 2004 | Antonio |
| Mathilde | 2004 | Pukovnik Unprofora |
| Dame Edna Live at the Palace | 2003 | |
| RSC Meets USA: Working Shakespeare | 2002 | Narrator |
| Callas Forever | 2002 | Larry Kelly |
| And Now... Ladies and Gentlemen... | 2002 | Valentin Valentin |
| Last Call | 2002 | F. Scott Fitzgerald |
| The Time Machine | 2002 | Über-Morlock |
| The Fourth Angel | 2001 | Jack Elgin |
| Dungeons & Dragons | 2000 | Profion |
| Longitude | 2000 | Rupert Gould |
| Ohio Impromptu | 2000 | Reader/Listener |
| CTS: Toronto | 1999 | Andrew Launder |
| Poseidon's Fury: Escape From the Lost City | 1999 | Poseidon |
| Faeries | 1999 | The Shapeshifter |
| The Man in the Iron Mask | 1998 | Father Aramis the Priest |
| Lolita | 1997 | Humbert Humbert |
| Chinese Box | 1997 | John |
| Mirad (TV) | 1997 | Djuka |
| Stealing Beauty | 1996 | Alex |
| Die Hard: With a Vengeance | 1995 | Simon Gruber |
| The Lion King | 1994 | Scar |
| The House of the Spirits | 1993 | Esteban Trueba |
| M. Butterfly | 1993 | René Gallimard |
| Damage | 1992 | Dr. Stephen Fleming |
| Tales from Hollywood | 1992 | Odon Von Horvath |
| Waterland | 1992 | Tom Crick |
| From Time to Time | 1992 | H.G. Wells |
| Kafka | 1991 | Franz Kafka |
| Zebracka opera | 1991 | Prisoner |
| Reversal of Fortune | 1990 | Claus von Bülow |
| Australia | 1989 | Edouard Pierson |
| Danny, the Champion of the World | 1989 | William Smith |
| Dead Ringers | 1988 | Beverly Mantle/Elliot Mantle |
| A Chorus of Disapproval | 1988 | Guy Jones |
| The Mission | 1986 | Father Gabriel |
| Rabbit Ears: The Steadfast Tin Soldier | 1985 | Storyteller |
| Un amour de Swann | 1984 | Charles Swann |
| Betrayal | 1983 | Jerry |
| The Captain's Doll (TV) | 1983 | Captain Alex Hepworth |
| The Wild Duck | 1983 | Harold |
| Moonlighting | 1982 | Nowak |
| Brideshead Revisited | 1981 | Charles Ryder |
| The French Lieutenant's Woman | 1981 | Charles Henry Smithson/Mike |
| Nijinsky | 1980 | Mikhail Fokhine |
| The Voysey Inheritance | 1979 | |
| Langrishe Go Down | 1978 | Otto Beck |
| Love for Lydia | 1977 | Alex Sanderson |
| The Liberty Tree | 1975 | |
| Notorious Woman | 1974 | Franz Liszt |
| The Pallisers | 1974 | Frank Tregear |
As director
Edit
References
Edit
External links
Edit