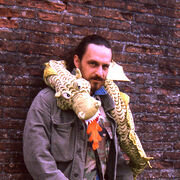 Gianluca Bedini is an Italian biologist and writer. He is the author of Aerosol, il fratello furbo di Eragon, a parody based on Eragon.
Personal life
Edit
Bedini was born in Italy in February 1969. He graduated as a biologist in Pisa, where he worked in the university until at least 2008.
Bibliography
Edit
His first books are two collections of short stories that he signed using his real name.
Deliri (2001)
Tomo secondo (2002)
With the pseudonymous of Joey Luke Bandini, he wrote parody:
Lo scrobbit (2004), based on The Hobbit by J. R. R. Tolkien
Il signore dei tortelli (2005), based on The Lord of the Rings by J. R. R. Tolkien
External links
Edit
Ad blocker interference detected!
Wikia is a free-to-use site that makes money from advertising. We have a modified experience for viewers using ad blockers

Wikia is not accessible if you've made further modifications. Remove the custom ad blocker rule(s) and the page will load as expected.