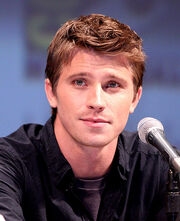 Garrett Hedlund is an American actor. He was born on September 3, 1984. He played Murtagh in the 2006 film version of Eragon.
He grew up on a farm in Roseau, Minnesota. In the ninth grade, he moved to Arizona, and started taking private drama lessons. He graduated from high school a semester early, and moved to LA to pursue an acting career. A month later, he landed the role of Patroculus in Troy.
He has two older siblings, Nathaniel and Amanda. His parents are divorced.
His other filmography includes the films Friday Night Lights, Four Brothers, Country Strong, and is best known for his role as Patroclus in the movie Troy and as Sam Flynn in the film Tron: Legacy.
External links
Edit
Ad blocker interference detected!
Wikia is a free-to-use site that makes money from advertising. We have a modified experience for viewers using ad blockers

Wikia is not accessible if you've made further modifications. Remove the custom ad blocker rule(s) and the page will load as expected.