A ferret is a type of mammal that can be found both domesticated and in the wild, part of the family mustelidae, and a close relative of the polecat.
Angela once told Roran to "Watch out for ferrets."
Behind the scenes
Edit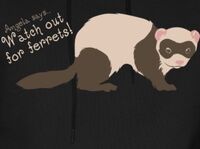 This casual statement by Angela, made after she healed Roran's wounds in "The Whipping Post," has spawned some fan attention, including a t-shirt featuring an artwork of a ferret and the phrase "Angela says... Watch out for ferrets!"
Ad blocker interference detected!
Wikia is a free-to-use site that makes money from advertising. We have a modified experience for viewers using ad blockers

Wikia is not accessible if you've made further modifications. Remove the custom ad blocker rule(s) and the page will load as expected.