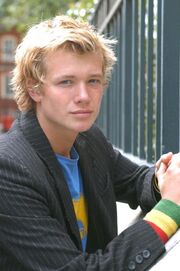 Edward John Speleers, known as "Ed", is the actor who portrayed Eragon in the Eragon movie, which was released December 15, 2006.
Biography
Edit
Edward Speleers was born in St. Richards Hospital, Chichester, West Sussex on April 7, 1988 and currently lives in Chichester, England. His first production was at age seven at Dorset House School in Bury where he performed 'Peter Pan'. Ed went to school on a scholarship to Eastbourne College and starred in many of the plays there. His most notable plays are John Proctor in "The Crucible", Street Car Named Desire, Richard the Third and Hamlet. His first real acting in front of a camera was in a short film directed by a New Zealander, Charlie Bleakley, called Metropolis in which he played a wankaholic. Ed had auditioned for the part of Peter in the Chronicles of Narnia, but did not get the part. Ed also tried out for a prequel to the Thomas Harris adaptation movie called Behind the Mask in which Ed would play a young Hannibal Lector. He also did not win out this role in the end. But at the age of 17 he beat out 180,000 hopefuls to land the title role in Eragon. Considered by many to have a strong female following, Ed is often referred to as 'Eastbourne College's leading man'. He is the only child of Essex-based financial consultant John Speleers, 62. At the current date and time, no information can be found about his mother except that Ed's parents are divorced, and his mother now lives in Spain. He currently plays James "Jimmy" Kent on Downton Abbey.
External links
Edit
Ad blocker interference detected!
Wikia is a free-to-use site that makes money from advertising. We have a modified experience for viewers using ad blockers

Wikia is not accessible if you've made further modifications. Remove the custom ad blocker rule(s) and the page will load as expected.