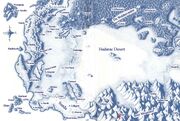 Dalgon was a city in the Beor Mountains, south of the Beartooth River. It was in this city that members of the Dwarf clan Dûrgrimst Az Sweldn rak Anhûin persuaded the unwitting Kiefna Long-nose to forge the daggers used in an attempted assassination of Eragon Shadeslayer during the Rider War.
Ad blocker interference detected!
Wikia is a free-to-use site that makes money from advertising. We have a modified experience for viewers using ad blockers

Wikia is not accessible if you've made further modifications. Remove the custom ad blocker rule(s) and the page will load as expected.