Battle Under Farthen Dûr is the 58th chapter of Eragon. It takes the point of view of Eragon.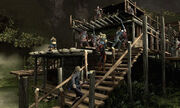 The Varden and the Dwarves fight the Urgals in defense of Tronjheim in the Battle under Farthen Dûr. Eragon is separated from Saphira during the battle and duels Durza, being forced back by the hideous torrent of memories from the mind of the Shade. Durza outmatches Eragon due to his superior strength and experience, and at the climax of the duel he critically wounds the Dragon-Rider by scarring him with a slice across his back, incapacitating him. Seconds before Durza could kill Eragon, Arya and Saphira shatter the Star Sapphire above them, distracting Durza for long enough for Eragon to finally slay him. Without Durza's leadership, the Urgals flee.
Ad blocker interference detected!
Wikia is a free-to-use site that makes money from advertising. We have a modified experience for viewers using ad blockers

Wikia is not accessible if you've made further modifications. Remove the custom ad blocker rule(s) and the page will load as expected.