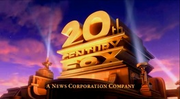 20th Century Fox produced the Eragon movie. Twentieth (20th) Century Fox, shorthand for Twentieth Century Fox Film Corporation, is one of the major movie studios, located in the Century City area of Los Angeles, California, USA, just west of Beverly Hills. The studio is a subsidiary of Fox News Corporation, the media conglomerate controlled by Rupert Murdoch.
External links
Edit
Ad blocker interference detected!
Wikia is a free-to-use site that makes money from advertising. We have a modified experience for viewers using ad blockers

Wikia is not accessible if you've made further modifications. Remove the custom ad blocker rule(s) and the page will load as expected.