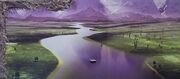 The Âz Ragni was a river that lead to Hedarth and connected with the Edda River to create another, unknown river. The Âz Ragni was the first river Eragon, Arya, Orik, as well as their dwarf companions took to the elven city of Ceris, on their way to Ellesméra. Âz Ragni means "The River" in Dwarvish.
Ad blocker interference detected!
Wikia is a free-to-use site that makes money from advertising. We have a modified experience for viewers using ad blockers

Wikia is not accessible if you've made further modifications. Remove the custom ad blocker rule(s) and the page will load as expected.